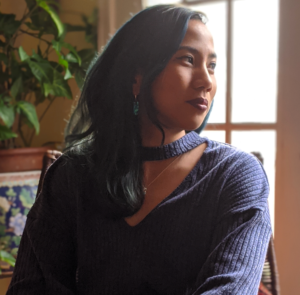 GRACE PIMENTEL SIMBULAN
After graduating cum laude from the University of the Philippines with a degree in film, Grace received a grant from the European Union as part of their project entitled "In Defense of Land and Life: Addressing Human Rights Concerns of Indigenous Peoples in Resource Conflict Areas" to produce a mid-length documentary film. As a follow up to this project, she immersed in the same community for more than eight years while producing the feature-length documentary film "A is for Agustin".
The experience and knowledge she obtained through her years in the Indigenous community became her driving force in pursuing a master's degree at the University of Wisconsin-Madison where her research explores the pressures, counter pressures, and negotiations, that lead to the adoption of projects for Indigenous women and children in the Philippines.
Grace is one of the contributors to the book, Indigenous Futures and Learnings Taking Place. Her chapter focuses on dreams and dream sharing as a critical means of documenting and passing on Indigenous knowledge.