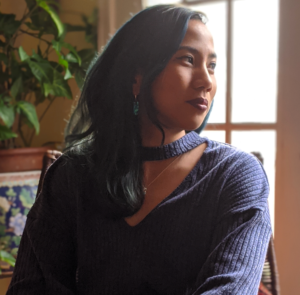 GRACE PIMENTEL SIMBULAN
Grace is an activist filmmaker based in Madison, Wisconsin. Her creative works reflect her commitment to center and support the struggles of Indigenous, Black, and Brown women. She aims to interrupt oppression through her films and videos that combine decolonial practices with impact-oriented storytelling.
Her films TRACES OF AWAKENING (2011) and DAM NATION (2019) have exposed the slow violence experienced by Indigenous peoples in the northern Philippines due to mining and corporate land grabbing. Her film TRACES OF AWAKENING was instrumental in putting an end to one of the mining companies' operations in the northern Philippines. This episode reinforced her belief in the role of films to create movements for social impact.
Her first feature-length documentary film A IS FOR AGUSTIN (2019), sparked conversations about the challenges Indigenous peoples face, including lack of access to and poor quality of education, particularly an educational system that recognizes their Indigenous knowledge, systems, and practices. It premiered at DMZ International Documentary Film Festival in S. Korea and was shown in numerous international film festivals in China, Italy, France, New Caledonia, the Philippines, and the US.
She is one of the contributors to the book Indigenous Futures and Learnings Taking Place. Her chapter focuses on dreams and dream sharing as a critical means of documenting and passing on Indigenous knowledge.